My.Cat.Com provides valuable tools and resources to help manage all your assets and offer a consolidated view of your fleet's critical information. You can log in to your My.Cat.Com account from a smartphone, tablet or computer to see it all within one easy-to-use website. Best of all, it's free to register and start coordinating services with your local Michigan CAT dealer.
Login Or Create A My.Cat.Com Account
What Will My.Cat.Com Allow Me to Monitor?
Think of MCC as a digital supervisor of your fleet, available 24/7. You can instantly check parts, service records and maintenance reports, and quickly act upon any issues. MCC connects your organization to your partnered Cat® dealerships for better communication and timely upkeep of your fleet. You can use MCC at no cost to you, whether you own or rent your Cat equipment.
MCC grants you these features:
Review the part numbers and service history of your equipment — even for non-Cat units
Monitor the location, hours and events associated with equipment connected to Cat ProductLinkTM
Order genuine Cat parts from Parts.Cat.Com
Schedule preventive maintenance
Request service and receive immediate quotes
Check the results of SOS fluid analysis
Manage rental and maintenance agreements
View and act on equipment notifications
Verify warranties or coverage under your Equipment Protection Plan
Access Operation and Maintenance Manuals (OMMs)
Plan and assign tasks to your staff
Download Our MCC PDF To Learn More
My.Cat.Com lets you make smarter decisions for your business faster than you thought possible. It eliminates the guesswork regarding the health of your Cat products and keeps you organized for the projects ahead. With MCC, you'll spend less of your workday tracking down the small details and more time helping your team tackle projects.
Visit Our MCC Training & Support Page To Learn More
Integrate VisionLink® for More Detailed Information
Want to drill down into the performance metrics of individual equipment? Pair VisionLink apps with MCC to track data like idling times and fuel usage. You can click a link on the MCC dashboard to go directly to the VisionLink suite and see these details in greater depth.
Use the Cat App to Stay Informed
The Cat App is your mobile companion for My.Cat.Com login capabilities on the go. Once you have an MCC account, you can review equipment locations and health, plus react to fault codes, order parts and request service directly from your partners at Michigan CAT. It takes just a few taps to track your fleet remotely and in real time.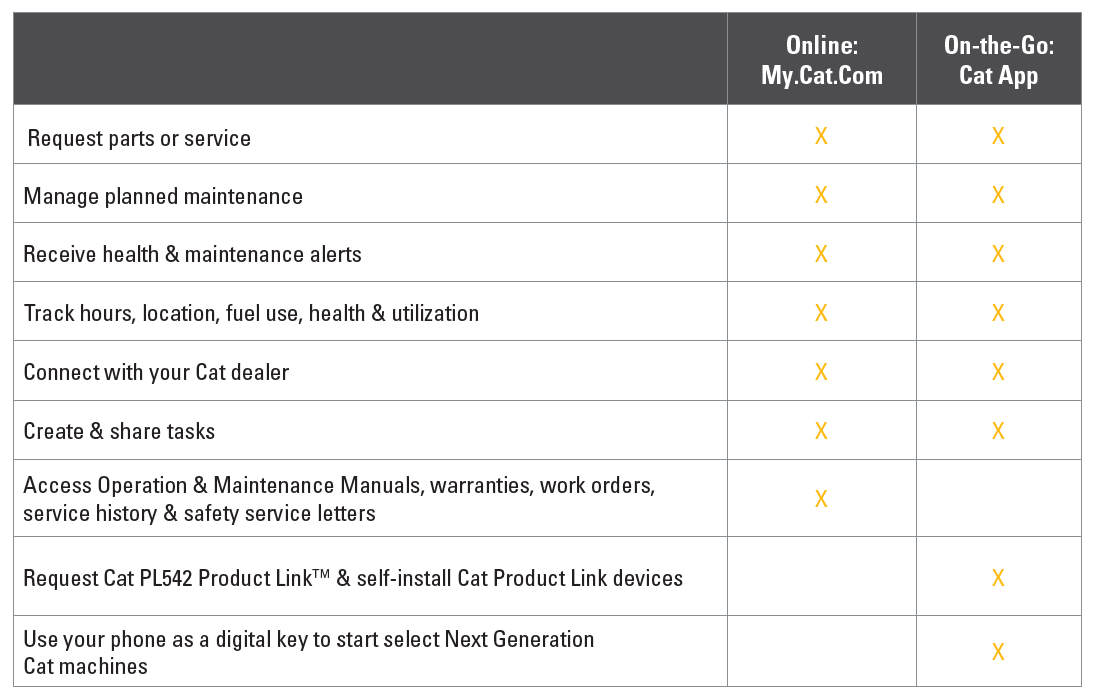 Learn more about the Cat App's functionality and how to download it.
Partner Your Organization With Michigan CAT — Learn More About What MCC Can Do
As the authorized Cat dealer for Michigan's lower peninsula, we want to help your company adopt this leading-edge technology today. We'll assist with setting up your MCC login and configuring services. Complete your My.Cat.Com registration today and begin gaining insights about your assets.
Michigan CAT also has certified trainers who will teach your workers how to get the most out of a My.Cat.Com account. Get in touch with one of our representatives online to schedule a training program.