Protect Your Fleet With a Customer Value Agreement

No matter the size and condition of your fleet or the type of applications and work environments, keeping your equipment operating in peak condition is the only way to ensure productivity. A Cat® Customer Value Agreement (CVA) is a comprehensive, scalable answer for putting your machines, engines and power systems on an effective preventive maintenance program.
When you partner with Michigan CAT to manage the health and performance of your fleet, you receive everything you need from a single, trusted source. A CVA covers everything from basic maintenance such as oil changes and battery and tire services to complete diagnostics, fluid analysis and advanced equipment monitoring. Take the worry out of working in an industry that relies heavily on construction equipment — we'll help you find a solution that eliminates extended downtime and unpredictable repairs at a cost-effective, set monthly fee.
When you sign an agreement with us, you'll benefit from:
An experienced team of service technicians who provide support and are ready to answer your call at a moment's notice
Regularly scheduled visits to your location to provide proactive fleet maintenance and troubleshoot existing issues
Fluid sampling and diagnostics that provide insight into the health of your machines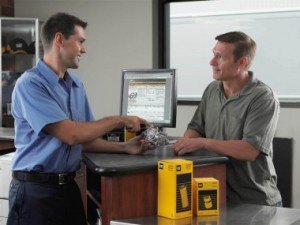 Advantages of Partnering With the Equipment Service Experts
As the authorized Cat dealership for Michigan's lower peninsula, Michigan CAT is uniquely equipped to service, maintain and repair your equipment, power systems and related machinery. We only work with factory-trained technicians who utilize the latest tools and technologies. We also have access to a complete range of parts and components via the extended Cat dealer network, making us a trusted local source with world-class capabilities.
In addition to offering services in the shop or in the field, a Cat CVA also comes with the following recommended services:
Contamination Control – Identify system contamination complications before they lead to more extensive damages and repairs.
Equipment Inspections – Multi-point visual inspections and remote equipment monitoring ensure critical systems are in prime working condition.
SOS Fluid Analysis – Keep tabs on component wear and receive timely service recommendations to extend equipment service life and avoid additional complications.
Trust Michigan CAT to create a Customer Value Agreement that's tailored to your specific needs. Contact us today for additional information and a free, no-obligation quote.