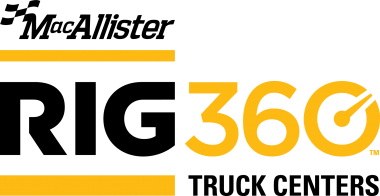 Whether you live and work in Michigan or are just passing through, you need a trusted source of diesel engine service and general truck service. At MacAllister RIG360 Truck Centers in Michigan, we deliver the truck repair and maintenance services that fleet managers and drivers need regularly. We work on all makes and models of medium and heavy duty vehicles, and we deliver comprehensive services that can get you back on the road again — and keep you on the road. See below for more details about our services and the benefits to you as a fleet manager or driver.
Use the form below to schedule service, or call Ken Patrick at (248) 349-7050 x1720
All the Services Your Truck Might Need
A MacAllister RIG360 Truck Center can be your one-stop shop for truck repair and maintenance, because our Truck Centers are so much more than just truck stops. We can diagnose, inspect, repair, replace or maintain all of the crucial components of your truck.
MacAllister RIG360 Truck Center Service Offerings Include:
Air Conditioning Service
Batteries & Electronics
Brake Service
Clutch Service
Cooling & Heating Systems
Diagnostics
Driveline Service
Dyno & Tuning Service
Engine Service
Exhaust & Emissions
Fans, Belts & Hoses
Federal DOT & MI State inspections
Hydraulics & Hoses
Lighting
Oil & Lube Service
Preventative Maintenance
Radiator & Heater Cores
Starters & Alternators
Steering & Suspension
Trailer Repair & Service
Transmission Service
Turbo Repair
Welding & Fabrication
If you drive a semi-truck, dump truck, fire truck, school bus, RV or similar heavy-duty vehicle in or through Michigan, lean on MacAllister RIG360 Truck Centers for all your service needs.
Featured RIG360 Brands
Fast Service When You Need It
You can't afford to have your equipment down for days at a time, even when it requires service. To prevent the loss of money and productivity, you need solutions, and you need them fast — which is why we offer our 90-minute promise. This promise guarantees that we will provide an initial diagnosis, troubleshooting and a recommendation all within 90 minutes of your arrival. Our primary focus is always getting you back on the road again just as quickly as possible.
Support From the Most Experienced Diesel Techs
No matter which Michigan-based RIG360 Truck Center you visit, you'll find highly experienced technicians who care deeply about your equipment and providing the support you need. Each of our techs is trained to work on equipment from leading manufacturers. They can answer questions and provide the expert guidance you need as you make decisions about your vehicles. We strive to be transparent, communicative and effective in all we do.
Welcoming All Makes and Models
There's no make or model we don't provide service for. Our team can work on diesel engines from top brands like Caterpillar, Cummins and Detroit, and technicians can work on equipment from leading manufacturers like Peterbilt, Kenworth, International and Freightliner. No matter the make and model of your medium- or heavy-duty truck, let our team serve as your trusted technicians in Michigan. We've partnered with many leading brands, including:  AQUATECH, Cat®, HDA Truck Pride, HDATP – Service Experts, Hi-Vac, O'Brien, Trail King,  WABCO, WABCO Service Partner and X-VAC, to ensure we can provide the best parts and service for your rig.
Ready for Outstanding Service?
For more than 70 years, we've been providing outstanding diesel engine service and general truck service in Michigan and Indiana through MacAllister RIG360 Truck Centers. These many decades of service have helped us create a service menu and a customer experience that both fleet managers and drivers will love. No matter the nature of your business, and no matter the type of medium- or heavy-duty equipment you operate, we're always here to meet your needs in Michigan.
We have 13 truck centers conveniently located near interstates and highways throughout the lower peninsula of Michigan and Indiana. Click on the map to the right for individual location details.
To learn more or to schedule a service appointment, please fill out the form below or call Ken Patrick at (248) 349-7050 x1720
Schedule Service