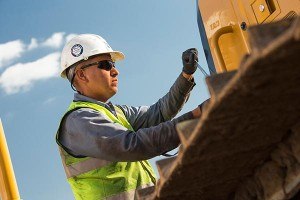 If your company is looking for a maintenance and repair specialist with flexible service options, consider utilizing Michigan CAT. Our company offers both shop and field repair services, tailored to meet your fleet's specific needs.
If you're considering a few different companies for your service and repair options, consider that Michigan CAT can:
Provide thorough in-shop maintenance: We can perform fluid analysis, lube services, machining, hydraulics, fabrication and welding at our facilities. You can trust that our technicians are well-versed in the latest techniques and are able to handle a wide range of repairs.
Meet you at your facility to perform fleet maintenance and repair: Michigan CAT employs a strong network of field technicians who are able to diagnose and fix your equipment at your convenience. We are able to offer our services around the clock, have the capability to monitor equipment wirelessly and are equipped with vehicles that have a full range of tools to address a vast array of repair needs.
Contact Michigan CAT Today for Your Shop & Field Service Needs
If your company's equipment could benefit from service in our shop or you need your fleet serviced at your facility, contact Michigan CAT today to learn how we can help.
To ensure fast, comprehensive service, please have your machines' make, model and serial number ready as well as the name of your part or component needing repair, a detailed explanation of your machine's issue and your location. That will help us determine where our nearest service center or field repair crew is, so we can get to you and get your machine fixed as quickly as possible.