Michigan CAT is a recognized leader in providing landfill solutions. Decades of leadership in converting landfill gas to viable energy means millions of "green" kilowatts provided.
Our landfill customers include operations across the nation-with hundreds of generators operating in diverse applications.
Michigan CAT utilizes field experts to meet any site requirement.
Customer Profile: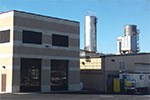 Granger Energy Services – Lansing, MI
One of the largest landfill gas operations of its kind generates energy from methane gas collected at two landfills. View PDF or watch video below.
View our Customer Profiles & Capabilities page to see more examples of the work we do.
For more information on your next landfill solution, contact:
Kevin O'Connell, Advance Energy Systems Manager
Office 888-MICH-CAT Ext. 1225, Cell 517-230-5444
kevin.oconnell@nullmichigancat.com