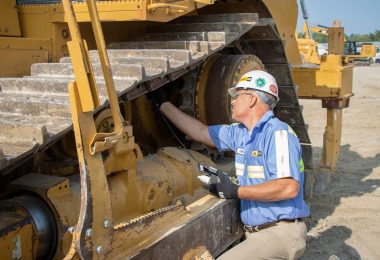 In rough terrain, your equipment's undercarriage takes the most wear and tear. That's why preventative maintenance is so important to get the most life out of the undercarriage and most uptime on the jobsite.
Michigan CAT provides repairs, maintenance, and support for undercarriage systems and the first step in that process is scheduled inspections. We recommend that everyone makes undercarriage service an ongoing priority and let us help get the most life out of those wear components.
Click Here To Request A Free Undercarriage Inspection
Undercarriage Services at Michigan CAT
Regular undercarriage inspections help find potential problems before they become more serious. Items we're looking for include:
Irregular wear patterns that suggest a hidden problem
Missing or loose parts
Physical damage to the undercarriage, driveline or tracks
Loose bearings, gears, or track linkages
Additionally, preventive maintenance also helps your undercarriage perform its best when working in the harshest jobsite environments. To decrease the stress on undercarriage components, we:
Recommend and source the best shoe type for your application
Ensure tracks are properly tensioned
Prepare your undercarriage for rough conditions
Each machine and job are slightly different, especially underfoot conditions in territories across the state. Whether you're operating in sand, clay, rock or topsoil, our knowledgeable team will consider multiple factors to determine the optimal service solution for your fleet.
The Benefits of Undercarriage Service
Undercarriage service can account for nearly 50% of a fleet's maintenance costs. When you invest in regular maintenance from Michigan CAT, you can:
Save money on emergency repairs
Extend the undercarriage life of your assets
Minimize downtime by lowering the risk of a breakdown
Enhance safety and productivity
Anticipate when repairs are needed, and plan accordingly
Heavy equipment is an investment and needed to get the job done. Taking care of your undercarriage ensures that your equipment is ready when you need it.
Comprehensive Undercarriage Solutions
Michigan CAT services compact and heavy construction machinery by Cat and allied brands. We can provide both on-site and in-shop maintenance on equipment, such as:
Excavators
Dozers
Track loaders
Compact track loaders
Multi-terrain loaders
We are qualified and equipped to do everything from preventive maintenance to a comprehensive rebuild.
More Information About Michigan CAT
Michigan CAT is the authorized Cat dealer for the lower peninsula of Michigan.
We provide industry-leading expertise, advanced technology, and in-depth understanding of the company's full line of products.
Our technicians receive specialized training on all the company's newest and most advanced machines and can do the repair in the shop or in the field. If the repair needs replacement parts, we can supply genuine, OEM parts.
Contact us online to schedule an appointment today.