Michigan's Weiler Paving Equipment Dealer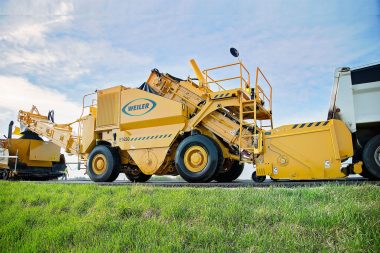 Michigan CAT is proud to partner with Weiler to deliver best-in-class paving solutions to our customers! Founded in 2000, Weiler is a cutting-edge manufacturer with 400,000 square feet of manufacturing space. The facility is equipped with machining tools, welding, powder and wet paint and assembly, allowing Weiler to better control quality and delivery for the majority of their machine components.
The Weiler equipment line is known for durability, reliability and ease of operation. With proven performance and powered by CAT engines, Weiler elevators, road wideners, remixing transfer vehicles, and commercial pavers are built to withstand the rigors of the toughest jobs while delivering outstanding results.
Call us today at (248) 349-4800 for more info on Weiler sales in Michigan.
Weiler Equipment Sales & Rental
We carry the complete lineup of new Weiler Paving and select Forestry products. When you buy new, you gain total control over the options you choose to customize your equipment to suit your needs. Our representatives will help you sort through the technical specifications to find the right size model. We will then help you outfit it with your choice of options from an extensive list that includes:
Asphalt Pavers
Pavers are used to lay asphalt and other surfacing materials to create roads, parking lots, bridges and similar spaces. Creating infrastructure can be difficult and demanding work, and it requires high-quality equipment. When you choose paving equipment from Weiler Paving, you're getting tools that help you do your best work while completing it efficiently. The effectiveness of Weiler paving products helps projects stay on time and under budget while also helping teams deliver outstanding results. Learn more about various Weiler paving equipment below.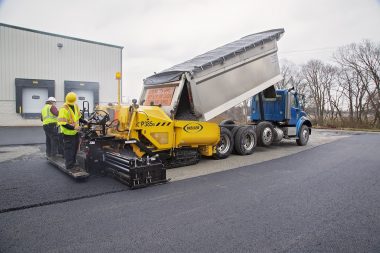 P195 Paver: The Weiler P195 incorporates proven designs with new innovations to provide performance, reliability and outstanding mat quality in a wide range of applications. It is built for production, offering a smooth ride, versatile screed and great visibility and control for the operator.  The 3' 10" (1.16 m) front mount screed is hydraulically extendable to 7' (2.13 m) and 9' (2.74 m) with bolt-on extensions.  It also has a narrow design build with a 46" (1.16 m) track width and 3' 10" (1.16 m) screed allows the P195 to fit within a 4' (1.2 m) cut for a true 4' (1.2 m) paving width. Additionally, the hopper folds up for an overall machine width of 4' 7" (1397 mm) for simple transport and access to tight spaces.
P265 Paver: The compact design of the P265 Weiler Paver provides maneuverability and versatility for the commercial paving contractor.  With its simple operation, heavy duty screed, precise control and durable components, it is one of Foley's most popular pavers.  The Weiler P265 commercial paver provides heavy-duty components in a compact paver.  The Weiler designed 3,700 lb (1678 kg) screed delivers outstanding mat quality and a wide paving range. With a best-in-class undercarriage, 8' (2.44 m) to 15' 8" (4.80 m) paving range, highway class conveyor chains and bearings and Caterpillar dealer inventoried parts, service and support, the P385B delivers on parking lots, driveways, city streets and more.
P385A Paver: The P385A Paver complements the Caterpillar larger paver lineup. This paver is part of an impressive family of durable and reliable road equipment products from Weiler. Simple to operate, with proven performance and powerful results, this paver is built to withstand the rigors of the toughest road jobs while delivering outstanding results. The Cat C3.4 Tier 4 engine with 100 HP delivers quiet power to the 20,500 lb. paver. Independent control of the left and right side feeder system enables variable width paving. The Weiler designed electric screed heat is hydraulically extendable from 8′ to 15′ 8″.
Weiler Equipment Service
We have service centers located throughout the region. Our expert technicians have the training to perform precision maintenance and repairs on Weiler equipment. If you have trouble getting to us, we can also come to you. We offer 24/7 emergency field service to your location for on-the-spot repairs done fast and with expert skill.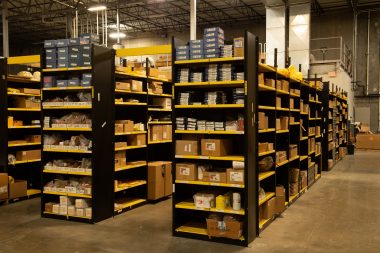 Weiler Parts For Sale In Michigan
We have all the parts you need to keep your Weiler equipment up and running – from Cat engine parts to wearable machine components. Our parts team will help you quickly identify the correct parts and any other products necessary to carry out a safe and complete service. We have a wide selection of Weiler parts in stock. If we need to special order something, we can get it to you fast to ensure your machines operate at their maximum capacity.
Michigan's Trusted Weiler Equipment Dealer
Locate your nearest Michigan CAT branch for Weiler sales in Michigan. For more information about our Weiler equipment sales, rentals, parts or service please contact us directly.